Skeet and Eat
7 18 04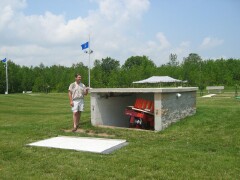 On a sunny summer Sunday an enthusiastic group of Chicagoans, all friends of Peter Daane, were shown the joys of trap shooting by Todd Daane and members of the Sauk Trail Conservation Club. Though most novice skeet shooters the joy of the sport, so infectiously exhibited by club members, was readily apparent to all. In other words, we Loved it!!!!!!.

Sauk Trail Conservation Club members not only know how shoot, but how to throw a party. There was enough bratwurst to reach back to Chicago, hamburgers, baked brat bun, platters of Usinger's meats, along with their delicious brats, the stray veggie or three and, my favorite, a nacho cheese pump.

Beer was served, but not until the shooting range was cleared of every scrap of debris, including all shell casing and firearms were not only put away, but cleaned. Safety and conservation come first at Sauk Trail Conservation Club, even before bratwurst and beer. <smile>

Thanks again to Todd Daane and members of the Sauk Trail Conservation Club.
Click for full sized image.

Todd D at Trap House

Trap Range

Skeet House

John M at the ready

David H in action.

Begona dusts another clay

Carolyn in motion

Ryan goes 10 for 10

Todd with Sawyer

Mr. Daane with Samuel

Zeke and Joe at the Brat Grill

Wisconsin Brat Porn

Brats at the ready

Brat condiments

Nacho Cheese Pump

Usinger's Spread (Picture by Hammond)

Peter goes in for a double

LTH IS the Best Restaurant in Chicago!

Hammond at the ready

John Mickey enjoying the outdoors
After an enjoyable day of shooting we relax at Daane Beach
Click <HERE> for Daane Beach pictures.
Sunday, after breakfast at The SandPiper, Peter D and I tour Gibbsville Cheese Factory.
Click <Here> for Breakfast and Cheese Pictures