Max's Giardiniera
Click on image for full sized picture.
Al's on Taylor's Giardiniera.
Giardiniera from Tenuta's in Kenosha (Joe H recommended)


Bari Super Hot Giardiniera

Nhu Lan
Rice Wine


Gary's WSM in Chicago Snow Storm

Tommy Burger picture taken by Scott B Orr at the original Beverly and Rampart location.

Jay's Jayburger Los Angeles

Hildred and Hema

Julia's Menu

Mayoral Handshake at Don's Humburger.

Zingerman's

Chicken/turkey on WSM marinated in Mojo Criollo.

Chicken/Turkey WSM ready to eat.

Bandera Baffle

Fat Johnny's

Aged Sardine from Hediard, top. Bottom aged Portuguese sardine from Zingerman's

Michael going in for just one more rib, then one more, then one more, then one more...

International Mall in Westmont

International Mall in Westmont

Pampanga at International Mall in Westmont

Lana at Fogo de Choa

Jibarito

Hong Xuong Bakery

Johnnie's Charcoal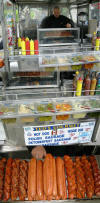 Toronto Hot Dog

Substitute Mayoral Picture at Chowhound Chilean Dinner

Hong Min 6.29.03

Angela Mayoral Handshake at Won Kow

Evil Ronnie with Pigeon beak at Shui Wah

Chicken feet w/black bean sauce Shui Wah (7.13.08)

Fermented Tofu

Mike's Fried Chicken

Bruce Cook's 8.17.03

Manny's Corned Beef Hash

King Crab at Sun Sui Wah in Vancouver

Alaska BBQ on NCL

Dry Rub Ribs

Ribs 'Regular' Style

Meaty Ribs

Mike's Fried Chicken on Lawrence

Devon Ave Butcher in Park Ridge

La Cazuela

Silvia at La Cazuela

Ba Le Mystery Sausage (5018 N Broadway)

Turkey, tomato, mayo and three kinds of pepper.

Black and White Cookie (North Shore Bakery)

Texas Donut Sunday at Huck Finn Donuts

Long Coriander

Thai Super Chef Fried Banana

Carolyn and Carnitas Queen (Carnitas El Paisa)

Davis Street Fish Market

Davis Street Fish Market Oyster lineup 9.8.04

Steak Hoagie from Home of the Hoagie (1312 W 111th St)

Fried Pickles at Magnolia Inn

Matt Parker at The Cheese Stands Alone

Mike G supervises David's purchase of aged gouda from Matt.

O.T.'s Fried Chicken, Greens and Baked Mac & Cheese