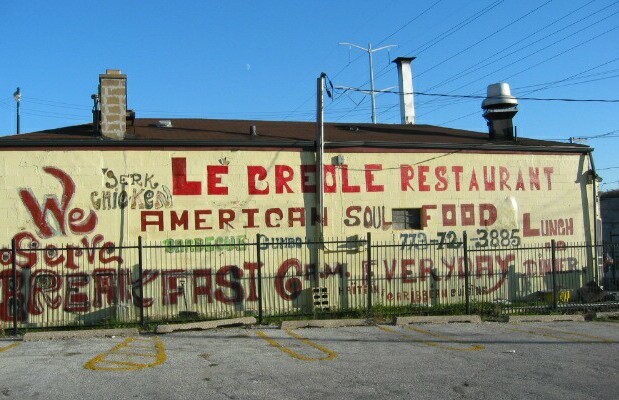 Le Creole image courtesy of Hat Productions.
Click on image for full sized picture.

Chowhounds Anne, Doug and Arika happy with anticipation.

Chowhounds at Le Creole

Anne, Doug, Arika, Ellen and Carolyn.

Mayor of Chicago Chowhound greets his constituents.

Carolyn and Mumon.

ReneG with Chowhounds

Sue with Table Centerpiece.

Dave Hammon and Maurice

Mumon and Aaron. (Image courtesy of Hat Productions)

Our Host with Pain Patate, the first of many delicious dishes.

Deliciously rich soup, do I taste marrow?

Chowhounds enjoying Le Creole's Soup.

Flavorful Black Rice with Shrimp to the right.

Fried Malanga, crisp, spicy and delicious.

Ox Tail. (Image courtesy of Hat Productions)

Scalloped Potatoes and Conch.

Legume

Full plate at Le Creole

Marie, our kind, patient and efficient waitress.

Therese, Co-Owner and Master Chef

Yves, Cake Baker extraordinaire.

Kettia, Therese's Daughter and Serena, Kettia's daughter.

Oooooops! Lucky Marie is married to Yves.{Smile}